Last year, FunikiJam was touring the world and starring in their own TV show in China. Now, they are helping families say "Goodbye, Lockdown" and "Hello, Off Broadway" when The FunkiJam Show: Totally Awesome Summer opens at Actors Temple Theatre.
"What happens when Agent Melody thinks she is going to have a Totally Boring Summer? Grab your passport, fanny pack and neon maracas because Captain Jam is launching a one-of-a-kind musical vacation around the world and back in time! He'll take her – and you – to totally awesome destinations like: the Beach, the Islands, Australia, and even the 1980's! But he can't do it alone. That's why he and the Agents of Jam (a highly trained team of elite experts in music, movement, and cool) are training the audience as "new recruits" to help with the Special 3-Part Mission: to have FUN, to JAM, and to celebrate summer about the WORLD! You, too, will be "feeling fine when you Jam-along" with this original musical that blends engaging action, energizing music, colorful film, and interactive theatre into a joyful journey the whole family can enjoy."
"A tuneful trip around the world" – (The NY Times).
"Fun for families, not just kids" – (Mommy Nearest).
**
Cast of International Artists features:
Brian Barrentine as Captain Jam
Andrea Galata (Italy)
Shawday Graves (United States)
Andre He-Cohen (China)
Shiho Matsuoka (Japan)
Sarah Rose (United States)
**
Creative Team
Playwright and Composer: Brian Barrentine (The FunikiJam Shows)
Consulting Director: Rosemary Newcott
(Director of Theater for Youth and Families, Alliance Theater)
Music Producer: Joe Mazza (The FunikiJam Shows)
Producer: Maarten Cornelis (Gatehouse Entertainment)
Video Production: David Moriya (Strong Asian Lead)
**
Box Office opens 1 hour before the performance.
To purchase tickets go to Telecharge.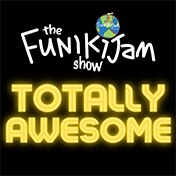 Actors Temple Theatre
Located at 339 West 47th Street (Between 8th and 9th Avenue)
**Join Actors Temple Theatre's  E-mail List for special discounts**
Like us on Face Book!