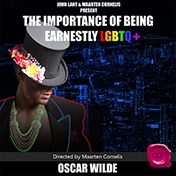 A modern inclusive spin on Oscar Wilde's classic tale, The Importance of Being Earnest, re-imagined with LGBTQ+ representation.
John "Jack" Worthing loves NYC and Gwyn Fairfax, and he can have both when he assumes the name of his made-up brother, Ernest. When Agernon, "Algy" (John's best friend) falls in love with Cecil (John's ward), he too decides to take on the name of Ernest. With John pursuing one man and Algy pursuing another, Lady Bracknell (who happens to be Gwyn's mother) slowly unravels the odd strings of potential matchmaking. Of course, with two men and one name they share, what follows is a mess of imaginary identities, good natured gossip, and ridiculous romance. The Importance of Being Earnestly LGBTQ+ brings Oscar Wilde's "trivial comedy for serious people " to contemporary times with new laughter, color and heart.
"I'm proud to create a world where coming out is never a thing, allowing our heroes to be unapologetically themselves. We will root for each one of them in our own way as we identify their fallible struggles and triumphs as everyone's allowed to be complete human beings in love." –Maarten Cornelis
Original February 14th, 1895 Review from Opening Night –
"The Importance of being Earnest, belongs indubitably to the first class. It is delightful to see it, it sends wave after wave of laughter curling and foaming round the theatre…"
**
FOR TICKETS:
Box Office opens one hour before performance
The Importance of Being Earnestly LGBTQ+
Review By Michael Tingley
While flipping through the program before the show, I stumbled on two quotes that would capture the beauty of this adaptation of The Importance of Being Earnest. The first is from Producer/Director/Lighting Designer Maarten Cornelis, "What if members of the LGBTQ+ community never had to step out of the closet because we never had to be in it in the first place?" The other is from Michael Morley's bio — who plays the bubbly and wonderfully petulant Cecil Cardew — "Michael Morley is thrilled to make Oscar Wilde even more gay!"
Wilde, as we all know, was born too early, we're still catching up to him. Morley reminds us that in Earnest, Wilde held himself back to fit the milieu. Cornelis wants to imagine Wilde freed from his time and goes beyond adaptation; Earnestly LGBTQ+ more than places the Victorian Earnest into the present, more than swaps paisley for Pride parades, opium dens for trap-houses, Victoria for Biden, and buttonholed green carnations for mesh tops and death drops. Instead, Earnestly LGBTQ+ imagines if Wilde, equal parts wit and iconoclast, wrote today — what would it be like? It asks, and it answers, fabulously. Let me explain.
First, all the relationships in the play are LGBTQ+. It is not such a simple change as one might expect as the actors are acutely aware. By making Earnest "even more gay" the show reveals how "gay" it was in the first place. The actors have found that the dialogue subtly changes when the relationship is queered, and the players emphasize these nuances wonderfully. Next, no one walks in this show, there's only strutting (the stomping tantrums of Cecil Cardew being the exception). Lady Bracknell, played by Denise Turkan — think Eastern European/Turkish Devil Wears Prada Meryl Streep — has become Cerberus-like, splitting lines with her two tremendous…assistants? Lovers? It's unclear but it's clearly hilarious. J. Mahal and Lyman Heung sass, bend, and seduce their way around the stage.
Playing Miss Prism is the confident and dynamic Lauren E. King. The love affair between Prism and Dr. Chasuble, played by Marie Angelo, is moving in a play that ridicules moving emotions — or any movement at all ("It is awfully hard work doing nothing"). The cynical, if not positively pessimistic, Lane finds multiple facets when played by Alison Wien. The added scene where Mahal and Heung change Lane into Merriman, Jack Worthing's butler in the country, gives the butlers a sexuality often ignored in other productions.
But if we're speaking of seduction — and really one can't avoid it when talking about this show — Kenon Veno is unsurpassed. He plays by far the most dynamic, attractive, (adjectives don't do the performance justice) Gwyn I have ever had the fortune to watch. The charged scenes between Veno and Preston Fox, as John Worthing, and Michael Morley, Cecil Cardew, should not be missed. Always a favorite of mine, the scene between Cardew and Gwyn in the country garden is the best rendition I've seen. Morley and Veno are exceptional together, sharing an energy and play only possible to achieve by actors who love their roles and fit them.
Finally, the outrageous best friends turned brothers, John Worthing and Algernon Moncrieff, played by Preston Fox and Clint Blakely, interrogate, rouse, and trick each other. In most productions, Jack Worthing is an uptight Victorian wrestling with his desires. The Jack in Earnestly LGBTQ+ has to be all that in lace shirts with bleached hair. Fox pulls it all off though, and still manages to be an exceptionally engaging partner for Blakely's Algernon, a character famous for his desire to eat everything – including the play. Blakely plays this voracious part exceptionally well, delivering some of Wilde's most memorable lines with grace and humor.
Earlier I mentioned Cornelis was Producer/Director/Lighting Designer, each of these roles is as important as the last in this show. The lighting is playful, neon, romantic. The actors have fun competing for their best light. Earnestly LGBTQ+ is a romp, a delight, and an imaginative liberation of Wilde's most loved work.
Produced by Write Act Repertory and Gatehouse Entertainment at The Actors Temple, 339 West 47 St., NYC
                      ++ (Follow Link) 

Theatre Scene Review

++
"Wackiness abounds as Wilde's classic is updated to present day NYC with same-sex couples, a Grindr reference, fashionistas and nightclub-style dances." The Importance of Being Earnestly LGBTQ+ is a theatrical alternative romp.
++
The Importance of Being Earnestly LGBTQ+ Cast Members:
Preston Fox (John / Earnest), Clint Blakely (Algy), Kenon Veno (Gwen), Michael Morley (Cecil), Denise Turkan (Lady Bracknell), and Lauren E King (Miss Prism), Marie Anello (Dr. Chasuble), Samantha Randolph (Merriman / Lane), with J. Mahal (Dancer 1) and Lyman Heung (Dancer 2)
The Importance of Being Earnestly LGBTQ+ Creative Team
Author: Oscar Wilde
Director: Maarten Cornelis
Choreographer: J. Mahal and Lyman Heung
Producer: John Lant and Maarten Cornelis in association with Write Act Repertory and Gatehouse Entertainment
Press Agent: Daniel DeMello
+++
The Importance of Being Earnestly LGBTQ+ Related Links
*
Actors Temple Theatre

Located at 339 West 47th Street (Between 8th and 9th Avenue)
**Join Actors Temple Theatre's  E-mail List for special discounts**
Like us on Face Book!